Providing Solutions
What We Do and by We, I Mean Me
Whether you need a pizza box (or three or thirty), an SFP (small form-factor pluggable), or an entire network, I have the tools and the talent to make it happen. Because I deal with used networking equipment, I can create a cost-effective solution for you a package that includes routers, switches, fire walls, cables, or third-party optics using a variety of manufacturers such as Cisco, Juniper, and Brocade. I will personally take the time to discuss your needs with you to make sure that we engineer the best network possible at a price that fits into your budget. Whatever works best for you and your custom needs, I've got you covered. At SubSpace Communications, I take pride in providing solutions.
Test It, Ship It, Plug It In
I source my used networking equipment from reliable companies and test everything myself before I pack it up and ship it to you. When you plug it in, it will work because I know it works both physically and for your specific needs. And service doesn't end when you get your box. I offer support and a full 90-day warranty.
The Long and the Short of It
Let's recap, shall we? When you buy used networking hardware from SubSpace Communications, you save up to 90% off the list price. What else do you get? A warranty that rivals the OEM warranty. And on top of that? Equipment that is thoroughly tested and real world tech support from someone who won't read from a script or treat you like you're an idiot. Best of all? You're a hero to your company. So put on the cape or pick up your phaser and let's get to work, hero!
Shopping with SubSpace Communications guarantees you not only a personal experience, but one that's fast, dependable, and economical.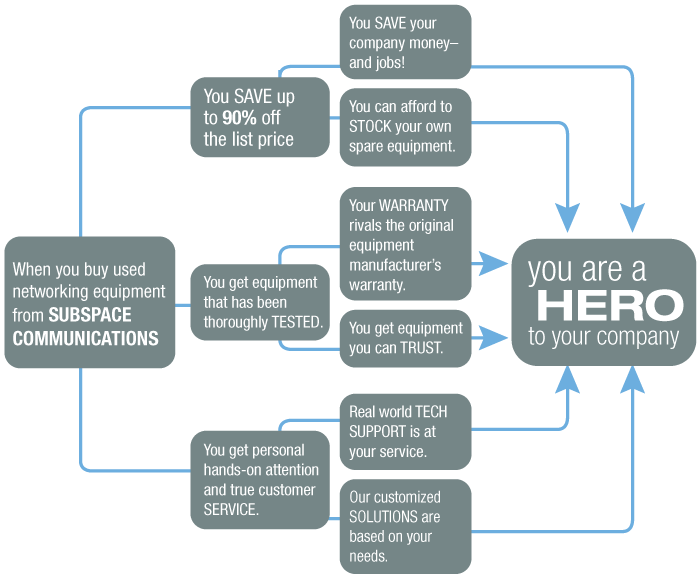 Testimonials

No more spending my days chasing down false leads (for the right piece of equipment). Gilli does the work, tests the equipment for me, and has it ready fast.

Chris Stradtman

Network Engineer